Travel Name: Caves near Kampot
Travel Destination: Kampot
On your sightseeing trip to Kampot you would find that there are various places of attraction in and around Kampot. The caves near Kampot, Kampot are other famous attractions for those tourists who are on a sightseeing trip to Kampot. These caves near Kampot, Kampot are nothing but limestone formations which you would find all through the stretches between Kampot and Kep. These limestone caves near Kampot, Kampot sometimes house exotic rock formations and in almost all the caves near Kampot, Kampot you would find Buddhist shrines. When you plan to visit these caves near Kampot in Kampot make sure that you are carrying a torch and have put on proper trekking shoes.Among the caves near Kampot, Kampot, the first caves that you would come across are that of the caves of Phnom Chhnork.
The first of these caves have pre-Angkorian ruins within the limestone caves. You would find various brick structures of 5th century AD amongst the stalagmites and stalactites that are formed within the cave. You would also find 4th century structures which are the evidences of the state of Funan. While you enter the cave you would find limestone formations in the shapes of elephants. The entrance of the second cave lies about 300 meters from the first cave and to reach there you have to climb various piles of rocks and go through small openings. You would find a small shrine too in the second cave.
Caves near Kampot in Cambodia further include the cave at Phnom Sla Ta'aun Plain which is smaller in comparison to the other caves but still it is attractive to the climbers. The interesting things that you can find here are a small shrine as well as a huge rock that is balanced in a hole on the ceiling of the cave.Another interesting one among the Caves near Kampot, Kampot is the cave at Phnom Sasear which is also known by the name 'White Elephant Cave'. This cave is located next to a beautiful pagoda. If you go up the stairs that rise from the side of the limestone outcropping then you would get a wonderful view of the countryside especially during the monsoon. In this cave you would find a shrine. This shrine is located at the base of a limestone formation which resembles the shape of an elephant. Thus when you are on a sightseeing trip to Kampot you should not miss the opportunity of visiting the caves near Kampot, Kampot.
The closest at Kbal Romeas hid Khmer, Cham and Chinese communities during the Khmer Rouge era and has a fine collection of stalactites and stalagmites (mites go up, tites go down -- just in case you have trouble remembering). Invest in the local economy by taking one of the teenage guides offering their services outside, who can tell you some history and point out interesting rock formations. If you've a head for heights, Climbodia arranges rock climbing, caving, abseiling and traversing a newly installed via ferrata at the site.
A little further along at Phnom Chhnok, a short ride off the Kep road through beautiful countryside, you'll find a seventh century ruined temple in remarkable condition. Phnom Sorsia is known for two things -- a large formation that vaguely resembles an elephant and some great views of the surrounding paddies. These sites are easily visited on the way to Kep, or combined with a visit to the caves at Kompong Trach. For Phnom Chhnok and Sorsia, decent shoes are recommended as the stepping can get a little tricky in places.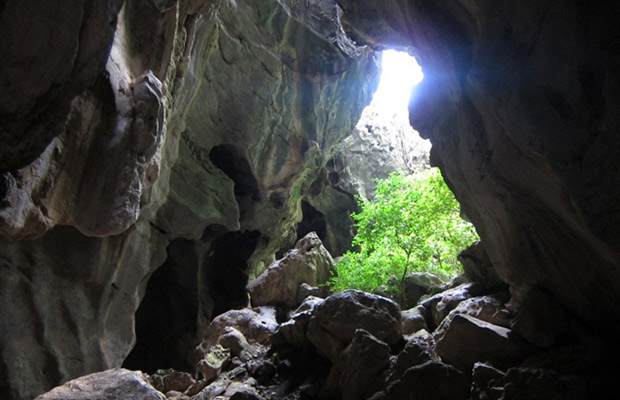 Copyright © 2019, Cambo Tours & Travel - Discover Authentic Travel Experience, All Rights Reserved.